The MHRO vision is
Peace and freedom for the Montagnards , the "Anak Cu Chiang" indigenous peoples of the Central Highlands, to live in their ancestral homeland, self-governed as an independent, sovereign nation, living in a peaceful, cooperative relationship with Vietnam and other countries of SE Asia and the world, according to the principles outlined in the UN Declaration on the Rights of Indigenous Peoples and the UN Charter.
Montagnard Human Rights Organization
Statement And Affirmation Of Values
September 2016
The MHRO mission is
To promote the rights and cultural heritage of the Montagnard people in Vietnam, the U.S., Europe, Canada, and throughout the world to live in freedom and dignity, sharing one heart and one vision of freedom. MHRO's Mission includes refugee protection, family unity, advocacy, and Immigration Services to all refugees.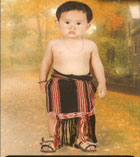 MHRO greatly appreciates your involvement and care!  If you would like to support the MHRO Vision and commitment, here are a few ways to make a difference on behalf of the Montagnard people.
How You Can Help