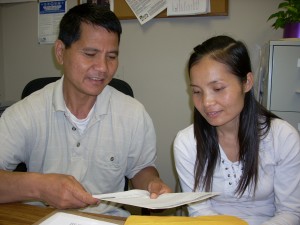 The first 9 months of 2010 brought continued accomplishments with family reunification and immigration services. MHRO served over 600 petitioners with the I-485 applications to adjust status, 25 I-730 petitions, 7 I-129 F, 25 N 400 citizenship applications, 17 I-90 and 25 I-130 petitions for relatives. Staff also continued immigration trainings throughout the year in compliance with the Board of  Immigration Appeals (BIA) accreditation.
In the photo below, the Director of Immigration Services, Vien Siu, assists a Karen client, Ms. Sa Tin, with her paperwork. The other images are of happy family reunifications thanks to the dedicated efforts of MHRO staff. In some cases, family reunification requires years of advocacy and follow-up with the U.S. Congress, the U.S. Dept. of State, the U.S. Citizenship and Immigration Office (USCIS)/ Dept. of Homeland Security,  U.S. Embassies such as the U.S. Embassy in Phnom Penh, Cambodia, and the U.S. Consulate in Saigon ( Ho Chi Minh City) Vietnam.
MHRO also advocates with the United Nations High Commissioner for Refugees (UNHCR) in refugee sites throughout S.E. Asia and Africa in efforts to protect refugees and to insure successful family reunification and refugee empowerment.